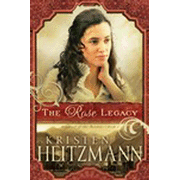 First of all, I owe a huge apology to Bethany House. This book and a few others that I will be posting reviews on were sent to me by Bethany House, I think at the end of last year, but with some major upheaval in my life I haven't been able to take the time to review them. I am finally getting back into the swing of things and wanted to get these reviews out there.
I have never read a Kristen Heitzmann book before so I had no knowledge of writing style coming into the reading of this book. The Rose Legacy is part of a series set in the Rocky Mountains during the gold rush era. The book begins with Italian beauty, Carina DiGratia making an arduous trek from Sonoma, California to Crystal, Colorado. She has left behind a loving family, except for a wicked sister who stole her fiance' from her, a deed she will never forgive or forget. She is out to prove that she is not the innocent that people believe she is. Unfortunately, she has a hard time living down that reputation, even among a city full of strangers.
Ms. Heitzmann, cleverly pulls you in and points you in several different directions at once. Making you second guess who you think the villain is with every turn of the page. There were a couple parts in the story that I thought were a tad tedious, but all-in-all, the book left me wanting to read the second and third installments in the Diamond of the Rockies series.
I have already recommended this book to my friends and will continue to do so. If you are a fan of historical romance and mysteries, this is a good, clean, entertaining book that, I believe, you will find hard to put down.